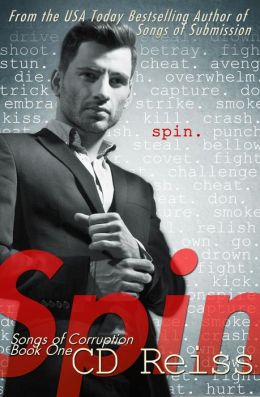 Spin by CD Reiss
****.5 Mi Copo Stars
What Spin wants Spin gets, well usually unless it is the smart,hot, firey tempered red head Theresa. Then it is game on.
"This is how you say "not pushy"? You can run. I won't chase you. You won't? I handed him the bottle. He smiled. Yeah. I will."
I loved that about Spin he new what he wanted and he went after her with everything he had.
"His eyes were black as a felony...But the slight cleft in his chin, the powerful jaw, the swoop of dark hair falling over his forehead seemed right. Just right."
Mi Copo Spin
Contessa Theresa
Theresa is drawn to Spin but is not about to be burned by another man. She is intrigued by all the mystery behind the man. He answers questions with questions or with just sheer avoidance. She is a wealthy woman and wants to be able to get to know him and be able trust him with her heart. He too has trust issues, and is not totally willing to let her into his world. At times this back and forth I want you I don't want you got on my nerves. Also Theresa giving Spin the run around was frustrating in the beginning. This isn't really a bad thing it is something that just bothered me, I am sure lots of people will not think twice about it. I did love it when they connected wow!
"I am afraid I won't have you, and I'm afraid I will."
Spin
About sums these two up...
"I'll break you with my love and put you back together."
Spin